Core Solutions
SMS focuses on providing IT Infrastructure Solutions (products and services) for heterogeneous Unix, Linux & Windows 200x environments. An overview of our key business focus are: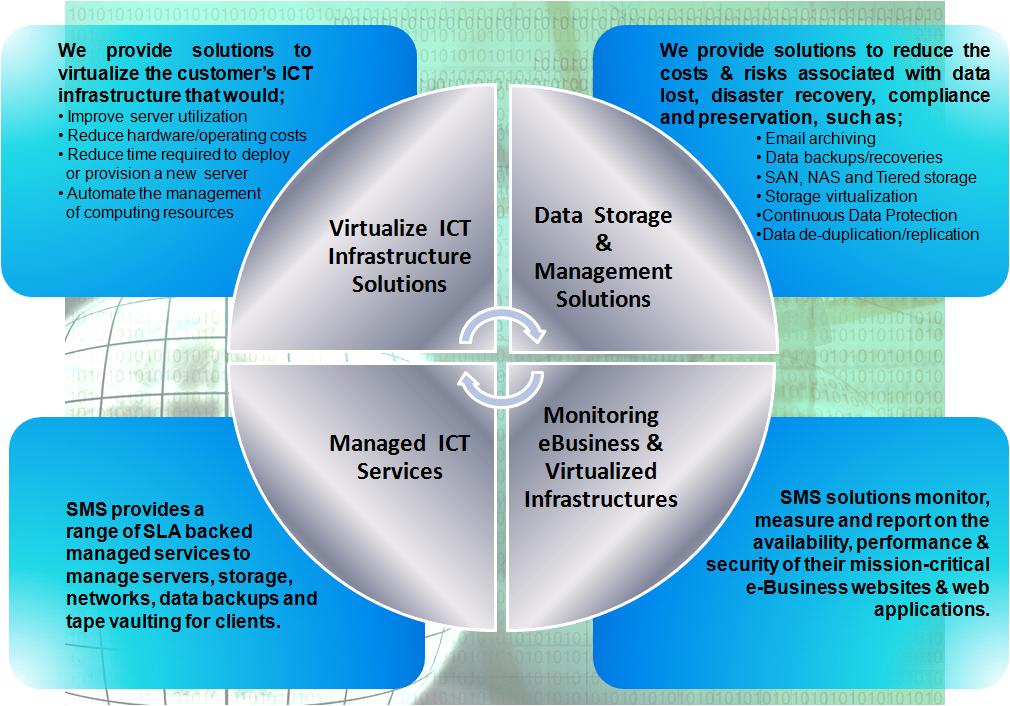 Data Storage and Management
In today's environment daily business operations are generating large amounts of information, both paper and digital. The explosive growth in both storage technology and data adds a greater level of complexity, amplifying the need for efficient storage and data management solutions that address these challenges. At the same time, regulations and security mandates become more stringent, making organizations increasingly aware of the need to manage and protect their information.
Organizations around the world face increasing obstacles in addressing the needs related to protecting and recovering information.
SMS offers valuable and cost effective storage and data management solutions for organizations to protect against:
Natural disasters
Hardware failures
Human error/sabotage
Viruses
Security breaches
Our storage and data management solutions ensure organizations are not left vulnerable to these elements and enables rapid recovery of data when they need it. Our solutions range from offsite tape vaulting to simplifying heterogeneous server backups/recovery in complex storage networks, point-in-time recovery of databases, email archiving and availability, HSM (Hierarchical Storage Management), CDP (Continuous Data Protection) and disaster recovery. With our 10 years of experience in information, storage and data management, SMS is positioned to assist organizations to provide the right solution to help reduce the costs and risks associated with data lost, disaster recovery, compliance and preservation.

Monitoring & Managing ICT Infrastructure Components
One of the primary ways in which organizations can improve the reliability and responsiveness of their business critical applications is through effective, proactive monitoring of their ICT infrastructure components.
However, in the initial stages of their operation, most organizations tended to focus on application design, hardware and site layout planning. Monitoring is typically performed more as an afterthought. While a variety of independent tools are available in the market for monitoring individual ICT infrastructure components such as network routers, web servers, database servers, DNS servers, etc., there are few integrated monitoring solutions that monitor critical business applications in their entirety. Consequently, most organizations tend to develop their own ad-hoc utilities for monitoring their business critical environments. The lack of proper documentation and maintenance increases the total cost of ownership of such in-house monitoring systems.
SMS provides an integrated monitoring solution that can be used by organizations to monitor their entire ICT infrastructure in a secure way across enterprise for greater business results. SMS's ICT infrastructure monitoring capability offer organizations the following benefits:
Proactive problem detection: Our monitoring solution can detect anomalies that occur in the ICT infrastructure environment. Based on its predictions, we are able to alert and report problems before they become severe. ICT Infrastructure operators can proactively fix problems before they begin to affect customers.
Acurate problem diagnosis: As complexity of ICT infrastructure grows, organizations struggle to accurately diagnose and fix problems that occur. This is mainly due to the dependencies that exist between networks, systems, and application elements of a typical ICT environment. As a result of these dependencies, a problem in one component of the multi-tier ICT infrastructure can impact several other components. By accurately diagnosing problems, SMS solutions enable organizations to minimize service downtime, thereby increasing customer satisfaction.
Service level management: Historical data and alarm reports maintained by our solutions can be used to audit the service levels offered by each of the ICT infrastructure components
Organizations can manage systems, networks, storage, applications and databases securely and dynamically. They can build on their IT investments, rather than replacing them, and do so at their own pace.

Monitoring eBusiness Infrastructure
As the web evolved from being primarily an information exchange medium to a place where real business is transacted, it has become critical for eBusinesses to ensure that their web sites remain available twenty four hours a day, seven days a week.
SMS provides web application management solutions that help ensure the Quality of Service of Web applications. This is especially true for financial institutions that have implemented mission-critical web-applications involving their customers access/update of financial information.
Our solutions enable such organizations to monitor, measure and report on the availability, performance and security of their mission-critical eBusiness services websites and web applications in cross platform Unix, Linux and Windows environments.
Using the latest technology, it allows us to manage electronic service delivery from both a customer and ICT infrastructure perspective delivering a true end-to-end view of the customer's Web application experience from the web user's point of view.
SMS has a proven track record in delivering system and performance management solutions that reduce operations costs, enhance information security and improve customer service. We work closely with our customers to automate routine operations procedures and optimize the availability, performance and security of their ICT eBusiness infrastructure components.

Managed Services
For customers that are seeking to lower their TCO in ICT infrastructure operations, SMS provides complete, cost effective, SLA backed managed services solutions in the following areas;
Data Protection/Assurance
Network & Server Monitoring and Administration
Data Center & Disaster Recovery Operations
Customers can select from a range of services including management of servers, storage, networks, data backups and tape vaulting. Customers benefit from reduced data protection operations, server/network management costs and improved overall ICT infrastructure operations by leveraging SMS's infrastructure software solutions and managed services expertise.